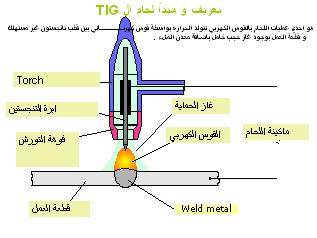 Tig Welding
Tungsten inert gas (TIG) welding became an overnight success in
the 1940s for joining magnesium and aluminium. Using an inert gas shield instead of a slag to protect the weldpool,the process was a highly attractive replacement for gas and manual metal are welding. TIG has played a major role in the acceptance of aluminium for high quality welding and structural applications. The process may employ direct current with positive or negative electrode or alternating current. In general, ac is preferred for welding aluminum and magnesium. Direct current electrode negative is preferred for welding most other materials and for automatic welding of thick aluminum. Thin magnesium sometimes is welded with direct current electrode positive. When ac is used with argon shielding, an arc cleaning action is produced at the joint surfaces on aluminum and magnesium. This cleaning action removes oxides and is particularly beneficial in reducing weld porosity when welding aluminum. When using dc, helium may be used as the shielding gas to produce deeper penetration. However, stringent precleaning of aluminum and magnesium parts is required with helium shielding. Argon and helium mixtures for gas shielding can provide some of the benefits of both gases.
Regardless of polarity, a constant current (essentially vertical volt-ampere characteristic) welding power source is required. In addition, a high-frequency oscillator is generally incorporated in power sources designed for GTAW. High-frequency can be employed with dc to initiate the arc instead of touch starting to minimize tungsten electrode contamination. Normally, the high frequency is turned off automatically after arc ignition. The high frequency power is normally operated continuously with ac to maintain ionization of the arc path as the arc voltage passes through zero.
Some special power sources provide pulsating direct current with variable frequency. This provision permits better control of the molten weld pool when welding thin sections, as well as when welding in positions other than flat. Pulse repetition rates are adjustable as are the pulse profiles. Other pulse features are also controlled. Power supplies may include electronically controlled features such as "up slopes" and "down slopes", etc. The latter are necessary to eliminate craters and crater cracking at the beginning and ends of welds or to accommodate thickness changes, etc. For manual welding much of this power supply sophistication is not used, as the skilled welder modifies his technique as he observes variations in the weld pool during the progress of the weld.
Melting followed by fusion of the weld joint results from the flow of electrons, (the arc current) and the very high temperature of the arc plasma through which the current passes and which provides the conductance path. The arc comprises both the current and plasma, along with some generated metallic vapors, etc. Plasma temperature at the electrode can be tens of thousands of degrees Fahrenheit depending on amperage. Within the arc region it can be ten to twenty thousand degrees Fahrenheit. Considerable heat is lost by radiation and in this regard arc efficiency drops.Depending on circuit polarity, the arc may emanate from the tungsten electrode or from the workpiece. Most often direct current is used but alternating current is advantageous for welding materials which form refractory oxides, for example aluminum. Due to the complex physics of the arc, involving electron collisions, pressures, temperature gradients, etc. the arc forms what is sometimes referred to as an "umbrella" shape. Because of this, arc length must be
عدل سابقا من قبل Admin في الثلاثاء مارس 18, 2008 11:05 pm عدل 4 مرات